Good luck!
I thought you are going to build a proper mtb with those hv escs… very disappointing…
Something broke in him when Madness failed him.
I have been soooo slack with keeping this thread updated.
I could do a huge pic dump, or I could just pretend that the last few months never happened
for now i'm choosing the latter.
What I am super excited about right now tho is our new Full Send Electric shop!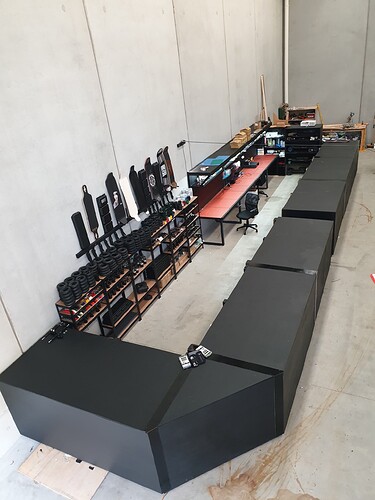 We got the keys a couple of weeks ago and have been going full steam to get it up and running. We are officially opening on Sunday and its gonna be epic!
It will be a workshop, a retail shop, and just a general esk8 hub!
Its mostly ready, just a few finishing touches to get it operational, and we will definitely be upgrading over time once we boost the finances a bit.
Started my first battery in there today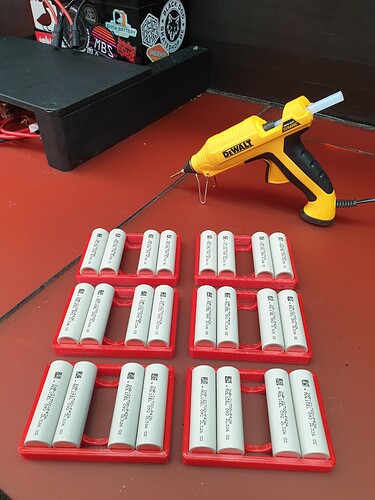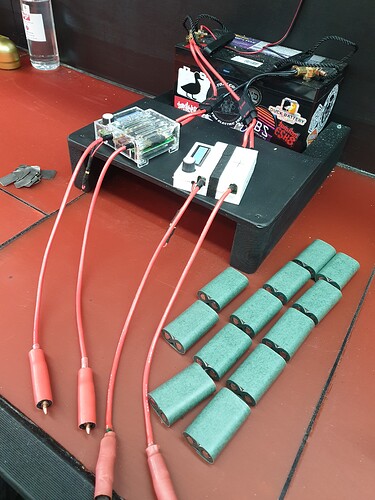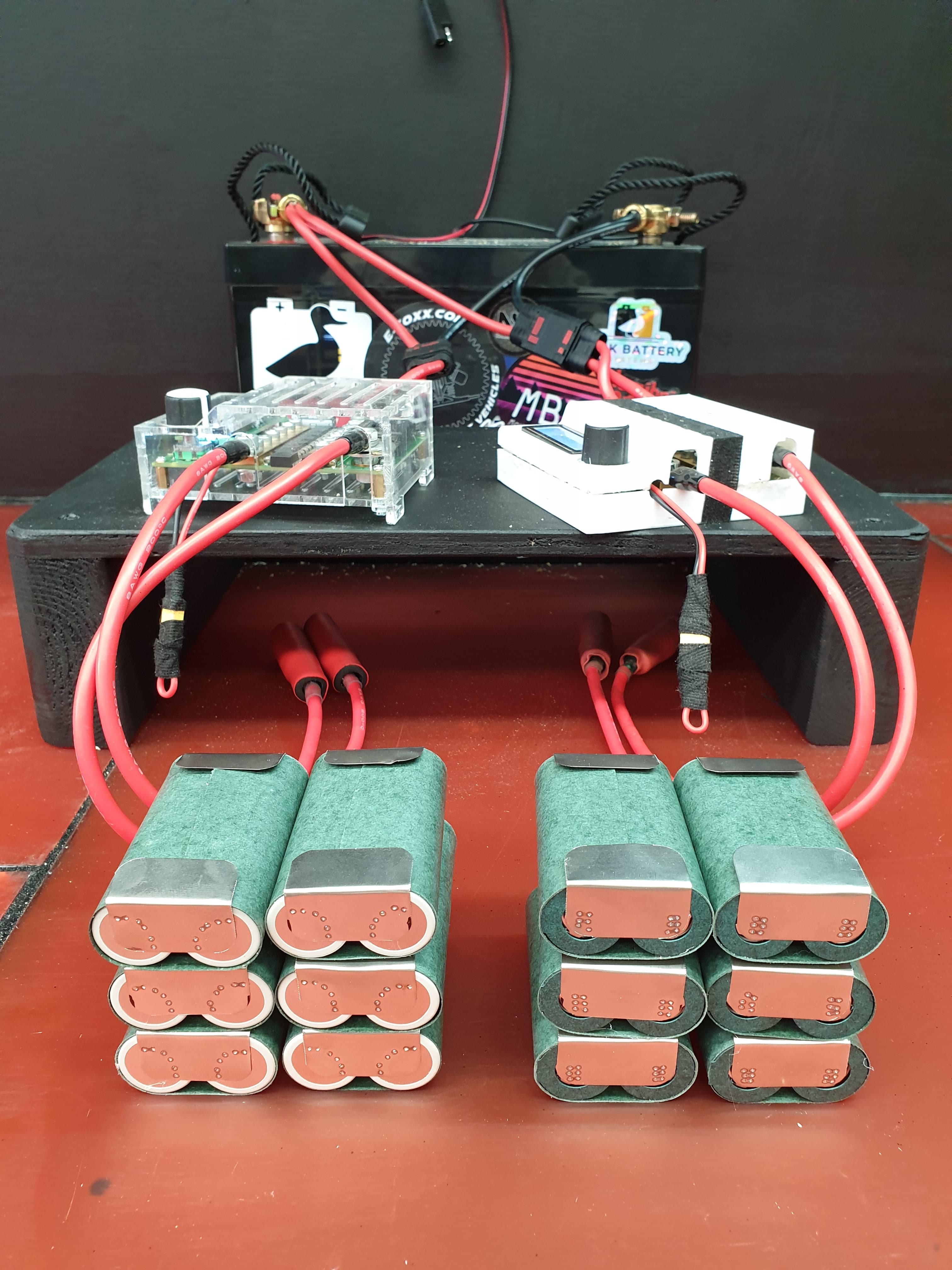 Fuck yeah, Al. Looks great!
Hope you guys kill it
Opening day was awesome!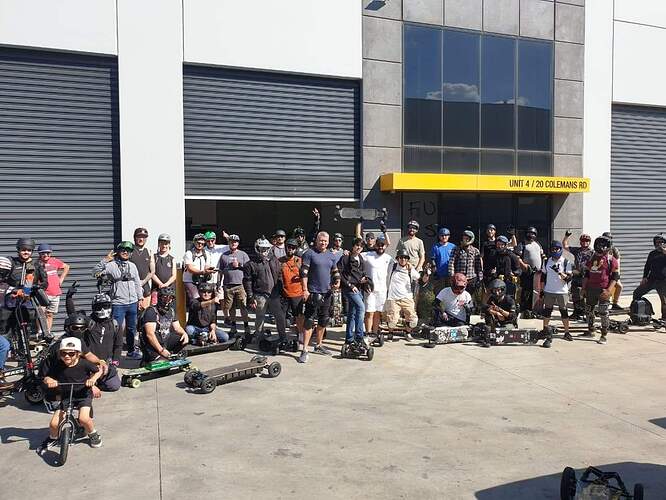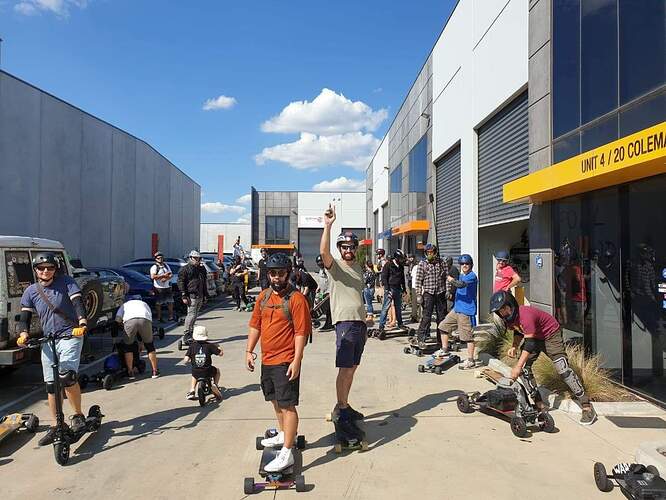 Was pretty hectic, made a stack of sales and had several more beers than I probably should have.
The ride went really well considering the vast difference in all the vehicles that attended and everyone had a merry old time.
The hangover is real today tho
Congrats on the new diggs, been sending all my mates there. I have one of those blue tongue barstards living under my boat in the front yard, sends the dog apeshit. Need some more parts for my mountain board build…will hit you up.
One of the local riders made a little vid around the opening, most of it is just ride footage, but that is my favourite run, so nice to have it on film on a beautiful day.
https://www.instagram.com/reel/CbtXjhIg-Gz/?utm_medium=share_sheet
Got this sled done for a local rider yesterday and started working on a trampa/haero/apex/bn build today, a real bastard son. I got a lot of the shitty fiddly work done today and got it switched on with no sparky booms, so that's a win
i hate the trampa boxes tho
Busy week in the shop. Finished skinning a couple of decks, finished the mongrel haero/trampa, rebuilt an old street build with new BNM1s, built a flux v2 battery, made some loop key kits and finally resurrected Billiam with the @Savage1 TKPs. Still some finishing touches to go on Billiam and waiting on belts, but I am soooo keen to get it out for a roll.
Wow, sounds like a week most of us could only dream of!!
The challenge is going to be keeping this amount of work coming through the doors.
Really need to step up on the social media aspect of things and also try to build the local community a little more.
Memorable moments from this week…
Got the Demonseed running, recorded my fastest speed ever on esk8 (65kph) on my first ride and took it to race night. Had an absolute ball pushing the board and myself to limits, but the frit just wasn't doing it for me for grip, so I grinded off the frit and replaced it with grip tape.
I think it's only fair and reasonable that the board formerly known as Billiam shall hence forth be known as Savage.
The trucks are really something else. I was shocked at how stable they are. I tinkered with the bushings, swapped the rears out for double 96a barrels and the front to 90a barrel/cone.
I still want a bit more turn from the front so i'm gonna wedge it 5 degrees and see how that goes.
Got the new Radium charger. Man that thing is a little beast.
I built a haero carver, coined it the Banshee. I think we are gonna make some more of these. Super fun build, only took it for a little squirt around the block today, but hoping to open up on it tomorrow and see how she goes.
Tonight I replaced the motors on the MBNEF build that tried to kill me. Hopefully that takes care of whatever the problem was… will find out soon enough.
Milestone for me; 3 operational DIY boards… first time ever. Feeling accomplished. Have I earned my master builder badge yet @Andrew ?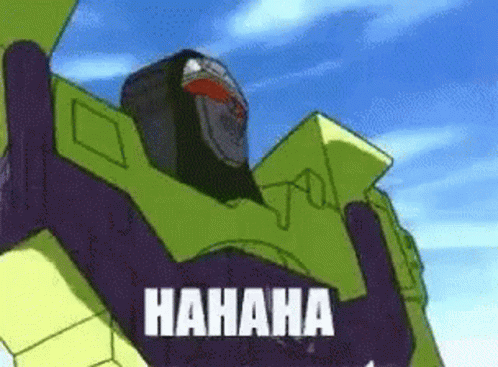 Bunch of test riding this week! Was great!
Took Haero for a good lap, low range torque was underwhelming but a little motor amp boost fixed that pretty good.
Got the savage trucks tuned pretty nicely, 5 degree wedge in front and flat washers all round really dialled it in to a point i'm happy with, will experiment more for shits and giggles.
Built a charge and ride box that survived a 60km ride of pretty terrible riding on my part, so pretty happy with that. Need to put a lot more kms down with that, will continue testing with frankendick to really shake it up.
Got the MBNEF running again, swapped the TB motors out for some random sensorless Turnigy motors that were laying around… the board still scares the shit out of me after the foot eating incident, so haven't really given it full beans yet. Will be retiring the deck very shortly cos I just can't deal with the flatness.
Started building some more batteries for Tranzite.
Probably other things.
Got a look inside a V2 flux production board today… super clean, but a couple of things i wasn't happy with. The nickel to the pcb is only spot welded… quite a lot of spot welds, but they didn't look super strong, would have been nice to see some solder there too. Smart bms had it's temp sensors just bundled up in the original rubber bands from factory, rather than strategically placed anywhere. Soft/hard voltage cutoff was set at 36V/33V
the dude was getting thrown from the board every time he was at the bottom end of his battery. I don't know for certain, but I assume these cutoffs were the culprit. Motor pulleys have circlips and keys to hold them in place, but no grub screw. So they seem to rock back and forth against the key and create slop.
The things I really liked were the motor sensor connectors, they were great. Nice small little waterproof plugs, pressure fit but nearly impossible to undo. And the way the battery pcb fits in and bolts into the enclosure is super nice.
Made a decent mess in the workshop this week, trying to make my own deck press! I'm a terrible welder and I hoped the practice might help me improve… but so far it hasn't
Still a fair bit of work to do on it, but these 3 frames are the bulk, so i'm stoked to have them finished.
Once it's done i'm gonna need to get working on an actual deck mold… my years of deck collecting and examination may finally pay off!
Finished the press! Goddamn that was a lot of work!
I had a lot of welding practice, but unfortunately didn't get a lot better at it
Super keen to start making my first mold tomorrow!
Made good progress on the mold, gotta let the glue cure now and then I will be pressing the actual surfaces onto it.
I am suuuuper happy with how this is going so far, and hoping that it survives the initial press.
The deck is prospectively 45in, may drop to 44. Nearly 11in wide at the front, just over 10in wide at the back, +5/-5, bacon concave in the rear to give you a plant when bringing your rear foot forward, tapered W concave to add strength/stiffness to the centre of the deck mostly.
If everything works well, it should be able to fit a 16s5p 21700 single stack in there.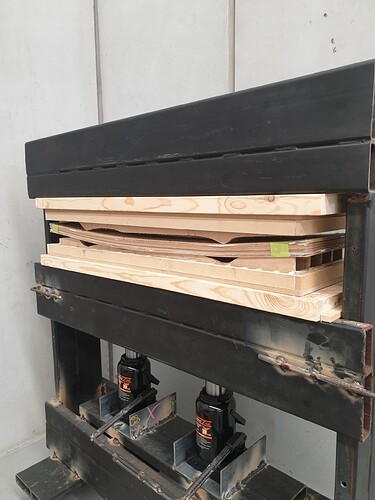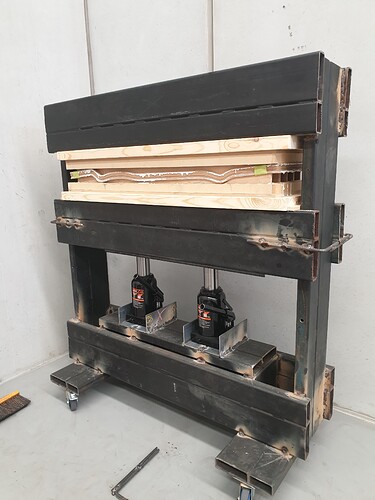 The press works!
I prepped 11 sheets of 3mm mdf in total, 3 for each surface layer and 5 to act as a temporary 'deck' just to provide the correct thickness between the two mold halves.
For the 5 'deck' layers I used melamine coated MDF because i wanted to ensure that there was minimal friction taking place.
For the surface layers, i used two layers of regular mdf, with a third melamine face as the outer face.
The surface layers were glued together with regular pva glue and foaming polyurethane glue between the skeleton and the first sheet.
The deck layers are somewhat sacrificial and were put in dry, no glue, just to provide thickness.
The press worked like a champ. I had some issues with registration because I haven't incorporated any way of the two sides of the mold to locate with each other, but a little bit of persuasion with the trusty ol' hammer sorted that out… mostly
Suuuuuper excited to see how this looks when I open it up tomorrow!
Sooooo stoked with how this came out! It's not perfect, but it can definitely be tuned from here.
The sharp bends at the transitions caused a bit of cracking in the surface layers, but i'm fairly confident that I can just shallow those curves a little with the sander in the hope that the rest of the mold provides enough pressure to consolidate those curves into the veneers.
All of my curves worked pretty much exactly as I had hoped, but the pressure from the press introduced a few lumps from the ribs of the skeleton mold. Again, nothing that can't be fixed with a bit of sanding!
I'm not gonna have time today, but I'll get this mold sanded up tomorrow and press a deck out of MDF so I can have a working template of the deck to determine the final shape. It will be useful to have this MDF version kicking about to use as a buck for making the enclosure and possibly other shenanigans as well.
Frothing on the curves! I love it so much! The bacon ripple concave at the back feels exactly like I had hoped, a perfect little pocket to lock into when riding with a shorter stance.
Cannot wait to press the first real deck! Just need veneers!
It looks amazing
. Great work dude