Excellent guide @glyphiks. It was fun finding out all the things I did wrong when I skinned my first deck
Cheers dude.
My experience is based on practice and fucking shit up. It's no good to only share the successes, and far more value is added if you can share the failures.
@glyphiks
@rosco
Couple questions. These are my practice skinning decks, fabric ordered.
What would you use to encapsulate the wire channel? Epoxy/bondo? I'll tape the bottom hole so it doesn't leak out.
For the insert holes, gut feeling says insert screws to desired depth, add some hot smoo for a buffer, then epoxy over top. Sound good? Any other ideas for a through hole insert is welcome.
Last thing, if I sand the edges raw, is 2k clear enough protection if I dont paint black? Or should I go with something more penatrative(like bill)?
Answered my first question with the search function… Epoxy it is, probably grab some Gflex since that deck is quite flexy.
I used epoxy. And a west system filler powder in it to thicken it. The powder helps stop it run out of the channnel.
Plan for insert holes sounds ok. I'd wonder about trying to fill tops of the holes with hot glue a bit and then cover over that with epoxy and filler powder mixture before you skin it.? Try to smooth out any lumps from the inserts. I had some problems on my deck with a part that didn't adhere well, so keeping the substrate consistent and clean over these would be a good idea.
I use superglue when I first put the inserts in, i usually sand or score the top of the barrel nut head with sandpaper or cutoff wheel on the dremel, and if i'm feeling really fancy, i mix up epoxy with a thickener like fused silica or microspheres to fill over them before the first base coat epoxy. I've also used bondo for that step.
Aint this the gospel truth here.
@glyphiks @rosco
Thank you guys for the priceless input.
I will do my damndest to not ask questions already in your tutorials/easily searchable/ESN frit thread.
I feel i have a good handle, but if I do need to ask something, I'll keep it between your threads so that future others can learn from it too.
Thanks again!
All good bro. I've only skinned a few decks myself. Just watched lots of videos and geeked out on it too. Happy to have helped.
I'm going to slow my build down just so I can let @PedroMcJimenez go first.
I gotta get a few more things ordered, but its mainly Amazon stuff; brushes,mixing cups,sticks,sandpaper.
First gonna do a chunk of wood>vanguard >zealot>Sidekick. Wait if you want, I should be putting down fabric within 2 weeks.
Damn it. I'm too impatient for that wait. The last of my orders including fabric will be here Monday. I'll be chomping at the bit when I return from vacation next week.
This is very true! I think I spent about 3 hrs on a couple decks.
I skipped the thickener step. Don't be dumb like me, because you'll need it anyway. Sanding resin sucks, as Al told me while laughing. I turned one step into 2, with an Amazon order in between.
This worked out, I put a little oil on the end of the screw to allow an easier release from the hot glue. I feel printing a little circle to place instead of hot glue may work better. May try that next time I have a through-hole insert to deal with. Though I shouldn't have to deal with through holes unless I do another pre-built deck in the future. Sex-bolts FTW.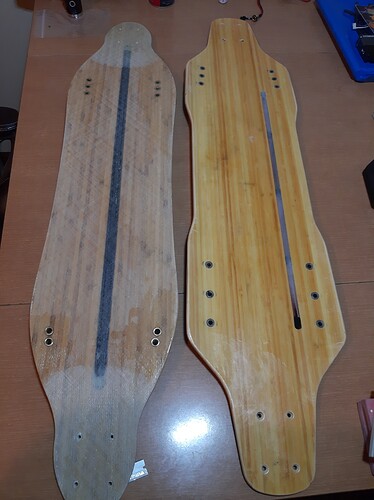 Thats where I'm at, ready for full sanding of the decks.
Going to sand a couple small chunks of 2x4 as well, and basecoat them today. I'll use them as practice to get a hands on feel of the process.
@glyphiks so from digital fabrics, are you printing onto "chiffon" as your polyester ?
So it's about 75 bux for a 100x140cn and you can fit roughly 4 boards worth with a few cm left to hang over the edges?
I generally only ever get 3 boards worth on there
Is it ok to do a printed fabric layer, and a fiberglass/carbon layer on top?
Was thinking of having a design under some fiberglass weave to create some kind of depth and texture, but I don't know if the layers would easily separate from one another… bad idea?
Not a problem at all dude