What dexk is the last couple of photos there? Looks like some sort of moonshine?
Killer shop dude! Looks like you do some cool stuff!
Thanks Man, I Appreciate it. That is an Omen barfight deck. I dig it, one of omens team riders wants it bad, so it might get sent to south africa.
I only have one Omen, the Spawn. It is a friggin awesome deck, the concave is really unique.
Yours looks great!
Thank you. Your right about the concave for sure different, those downhill guys are a different kind of crazy.
There is a moonshine on ebay I've been thinking about ruining my day with.
Dude that will not be a ruined day. I also have only one moonshine deck, but it is hands down one of the best decks I own. The construction and quality of their decks is incredible.
It's like sacrilegious to put all those holes in a perfectly fine piece of wood. Haha I have a connection with them .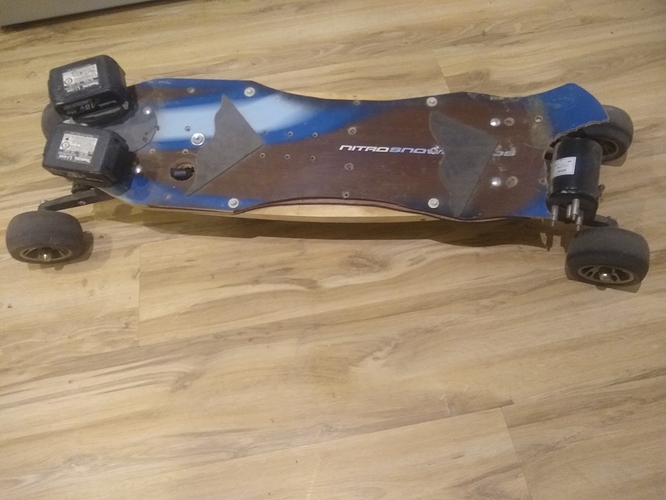 the very first electric skateboard i ever created. Laugh all you want, I thought I was going 25mph, no bro your going 11. Crushed me. Lol anyway, that was a few years ago, powered by makita
trucks are the ones from a BMW carvebooard knockoff, actually called a Pantera, aluminum thing pretty cool for it's time in my opinion. I chopped up a snowboard and used some chair or table legs for support since it had more flex than
@BillGordon
's schedule.
I love power tool battery boards. Check out this beast that showed up on a local group ride recently…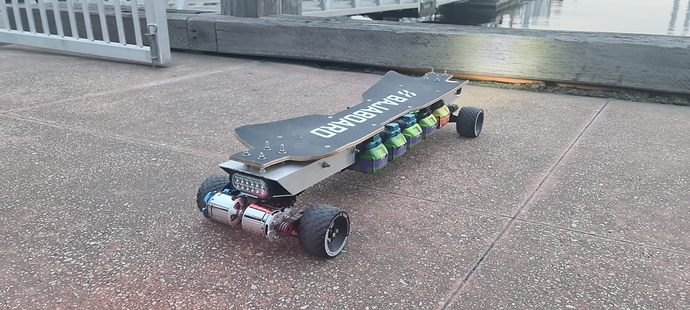 I saw that somewhere and got instapissed! Ha, for real though that's %50 why I went electric. I was like I have more tool batteries than I could shake a stick at. First makita pack I used the old nicad 9.6, 6 in series, let's just say power wheels owe me for RnD.
Are batteries on both sides of it?
Yep, 10 makita batteries all up. Like 50km range on it
Cheebus that's some serious distance. . . Oh wait kh, sorry, dumb american here.
Yea it's like 3 miles right?
3 maybe. I switched the speedometer in the ole buick to kph and the fuel mileage really sucked.
Close. Very close. I put an old wheel in my lathe and made a few bushing's. That was the shavings which I mixed with epoxy… TBC…