I suggest you also hit him up on Insta:
Anyone in the southern california area interested in getting paid to revive my Rev?
Thanks Bill, I couldn't find anything on their site that said they would service a Boosted Rev, but I sent them an email to ask! Can't hurt to try!
Yeah, they may know of someone, so good approach.
Asking around, but not much traction.
Thanks Bill!
Another friend mentioned you should post in LAESK8 Facebook group.
I have a quick question, why is it important to use a shielded cable for the throttle if the throttle wire from the inside itself is not shielded?
Thanks!
Think of the length of wire connected to an analog input like one big radio antenna that's soaking up environmental noise.
Noise on a signal that is connected to a throttle is no beuno, so best practice involves the use of shielded cabling.
Hi @Andrew, thanks for sharing your project. This is something that I have been wanting to do for a long time.
I have a question, you said that you used only nickel strips and folded them between the packs, but I am curious why it is sticking out that much. Shouldn't it be sitting flush with the packs?
Yes! I don't understand why they are protruding out like.
These protruding tabs are used to either connect p-groups or attach balance wires, or both.
Here's a battery I made earlier this year: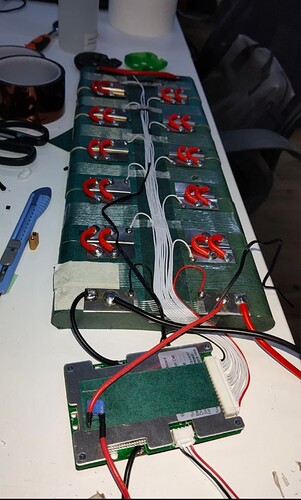 That's why I am intrigued by this battery pack build. @Andrew said that he folded the nickel strip between the P-packs in order to save space, but the series connecting cables you mention would make the two 6S packs stacked together thicker.
Oh, I see what you mean. In that case, I don't know, either.
Lemme call in a smarter (marginally) guy: