Do you have a broken Rev or you want to get a used one and mod it? You're in the right place.
What you need:
Boosted rev: you can find a used one on facebook marketplace or craigslist. I wouldn't pay more than $700 for a working one in good condition but sometimes the lowest you get is $800. Try to bargain. You can also sell the battery and esc if in working condition and get some money back.

ESC: depending on your battery setup, you can fit a Xenity/Unity, Spinted or Stormcore. The stormcore is bigger and needs to be put horizontally. I am not sure you can fit a 12s5p like described here with anything but a unity. If you create different setups (like 18s3p) you can put a Spinted or a Stormcore in the back but I didn't do that. I wanted to go 16s4p after @A13XR3 suggested it but I couldn't fit the batteries in that setup. I recently looked more into this and found out you might actually get great results with single compact escs like this MakerX Mini-FOC MINI-FOC PLUS small ESC 3-12s based on VESC6. Just because you can move them around and combine them in creative ways!

BMS: get something small like a Daly 12s 20A and bypass discharge. If you go high voltage, put the BMS together with the ESC.

A shielded, 3 way cable to replace the throttle cable.

A 3d printed replacement for the dashboard where you'll have the power button (which needs a longer cable, I re-used the one which was used originally) if you want to have a nice finishing there

Battery building skills and tools or @A13XR3 or @kevingraehl or @Benjamin to build you one?
Steps
You've got to open the thing. There are 4 screws on the top deck, two are hidden in the front and you need to lift the rubber to see them. On the bottom all the screws to remove esc and other stuff.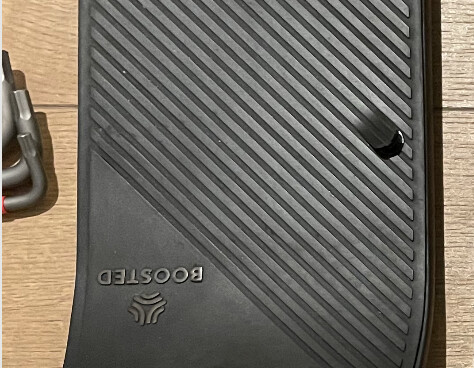 Remove battery and esc. Nothing special here, just don't cut cables yet you can pretty much remove everything through screws and so…

Figure out what battery you want to put in there. @A13XR3 suggested a possible 16s4b but that would require you to somehow file down this border which makes impossible to stack too many batteries even if they fit in the bottom of the enclosure



Space is very tight here, and you've got to plan well how you want to position everything. You have no room for excess cables and so, so you'd better be prepared.
I went for the classic 12s5p. I did build it by stacking two 6p on top of each other using only nickel to connect everything. I did "fold" the nickel sheet between the packs, but beware that even in length every mm matters (I'm sure @poastoast always agrees here) so you'd better keep it tight (you'll see later that the esc will be fitting a space where it cannot even move!).
I did pass the balance wires in the small channel on the side of the pack and got to this
The BMS will be sitting under the esc so you want balance wires to be super short, and have two longer wires you'll branch to go to ESC and BMS/charging port.
This is where you'll be in the end
Once your battery is ready, you have to know a few things. First is in order to fit the 12s you'll have to shift the battery back to the very end of the enclosure. This means there will be 2 small screws under it at the end, therefore I added some padding on the screws and around so the battery can't be damaged or cannot bend because of those. Neoprene is your friend.
Create the BMS/Battery piece first, then lay it together with the esc in the space and operate on the cables.
What I did:
I kept the longer cable from the back motor, preserved the "connector" and cut the cable close to the esc. Then you have to wire the sensor cables, match the red with red, black with black, yellow is white (TEMP sensor) and the other 3 wires have matching color (even if you could combine anyway you like). (thanks @kevingraehl for help here)
Remember, white from motor is yellow in standard esc sensor cables (maytech here).
I cut the front motor cable before the connector, and using the same logic created the sensor cable connection.

For both motors you'll obviously need bullet connector for 3 big wires.
Now remember, the power connector just needs to be lenghtened, any cable will do it so no problem there, get it out from the hole on the right in the pic.
VERY IMPORTANT: THROTTLE (thanks @Andrew )
In order for the throttle to work you have to connect it to the UART port in ADC mode, and black is ground, red is 5V while last cable (blue) is the ADC1. Also, you'll need a shielded 3 way cable and the shielding wire needs to be soldered to black or ground on both ends! I got this

They're all black here but the bottom one is red, then black and top is blue or ADC1.
Last thing is re-using existing charging port and connect the BMS discharge only to that (blue connector was nice and I kept it, re-using it for my wiring entirely as you can see behind the XT60.
Set it in current reverse center and calibrate the ADC1 only >not hard vesc tool actually has instructions if you click on the question mark here at the bottom right

You should be good to go. I kept the back light cable wrapped in the left side of the enclosure for future usage. I will post again once the new support on top for the 3d printed deck will be ready (planning on a Davega there, but what about the UART then!)

Temp fix
Eye candy.