Credit for this thread goes to @ducktaperules from the esk8news forum.
The Goal
I'm sure you've looked at a wheel and thought :
. . . What pulleys fit this wheel?
. . . What bearings does it take?
. . . What is the bolt hole spacing?
. . . is it compatible with? . . . .
Most 3.75" Hubs can fit 7" 8" as well as
---
2.8" Hubs fit 6x2" tyres exclusively (Bergmeisters and Sixshooters)
---
After my frustration trying to find some AT wheel related information, I decided there should be a central place where this information lives.
The goal here is to create a thread detailing all useful information about different AT wheels. This is a bit of an experiment but hopefully, it will result in an organized, curated and maintained list of available wheels with as much relevant information as users can provide.
If you have any information about a specific wheels dimensions, bearing size, bolt hole pattern or maybe even a CAD model please post it below and I will try and integrate them into this main post.
---
The List
Trampa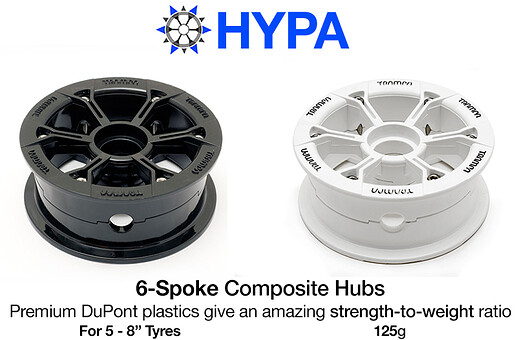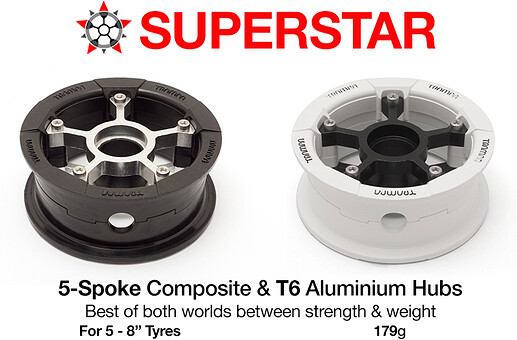 MEGASTAR

6061 Aluminium Hubs with Aluminium spokes.
Fits most 6.5" to 8" tyres.
292G/per hub
Starting price 50£/per hub
Unknown. Up to 75psi?
Fusion Model : Fusion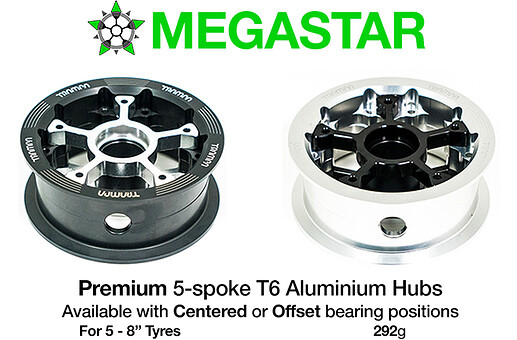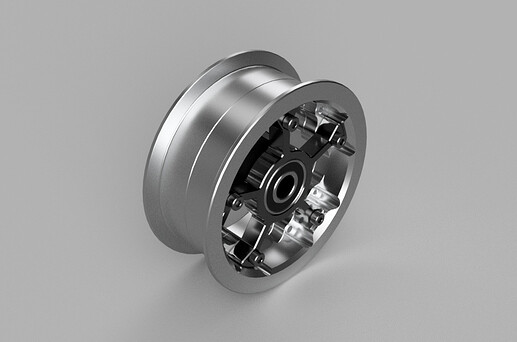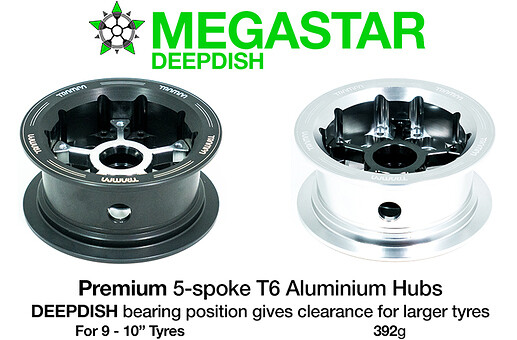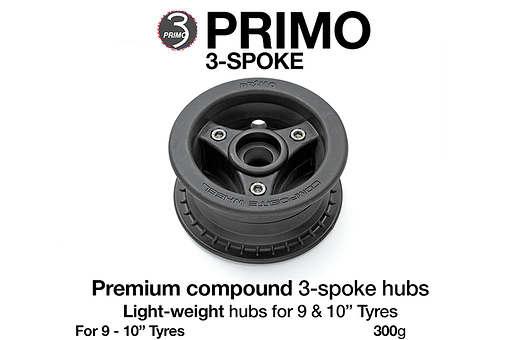 ---
MBS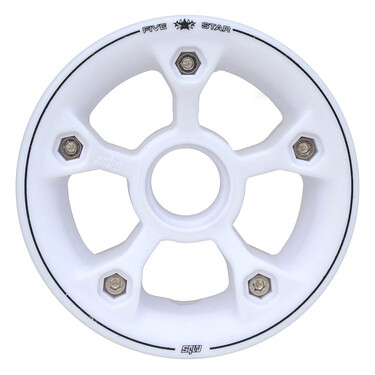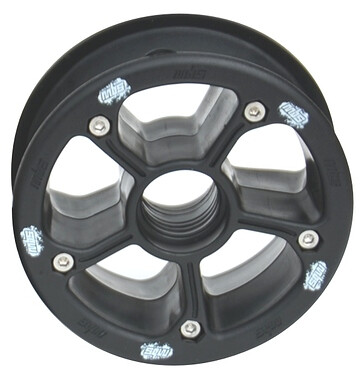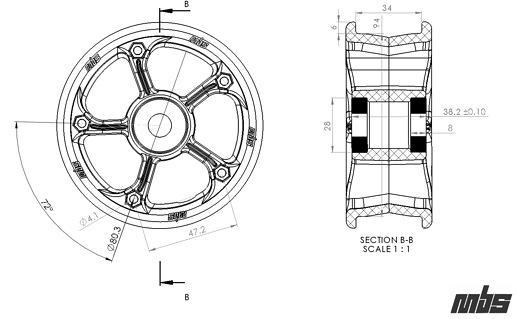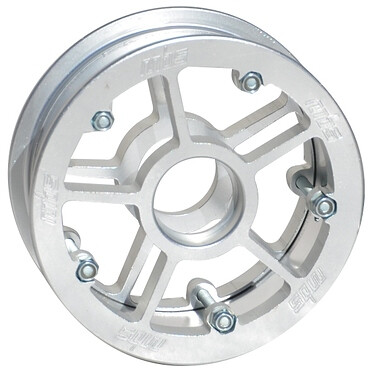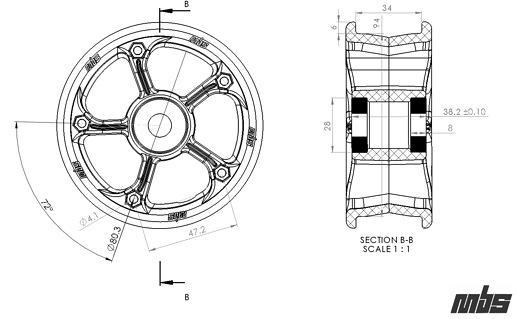 ---
Psychotiller
SixShooters

CNC'd aluminium hub made by

@Psychotiller

.
Fits 6x2″ Tires Only
???G/per hub WEIGHT STILL NEEDED
Starting Price= out of production | was= PRICE STILL NEEDED
Up to 70psi
Bearing Type: 608 bearings
Bolt Pattern : 6 wheel bolts at 30mm radius and 6 drive bolts at 47.63mm diameter **
Axle Compatability: 8 or 10mm axles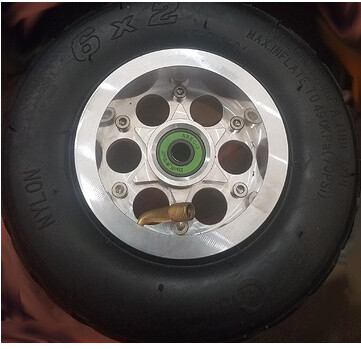 ---
TorqueBoards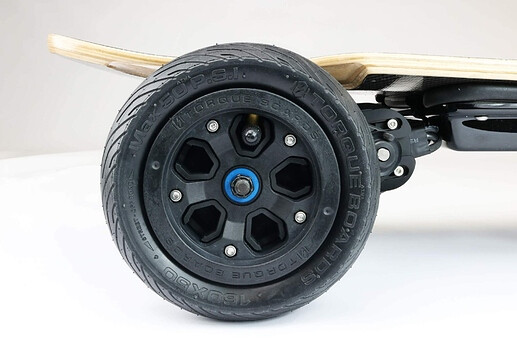 ---
3DServisas
FatBoy Mini AT 3.75"

Made by

@3DServisas

.
CNC 6061-T6 aluminum 5 Spoke Hub
Fits 6.5 to 8″ Tires
290G/per hub
Starting Price 180£/per set of 4
Up to 80psi
Bolt Pattern : 5 drive bolts at 27mm radius. 5 Wheel bolts at 42mm bolt to bolt.
Bearing Type: 22x7mm bearings
Axle Compatability: 9.525 or 12mm axles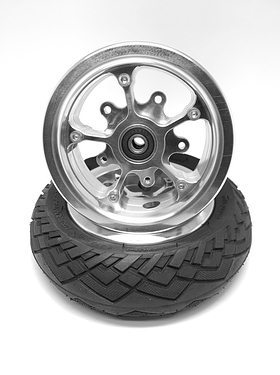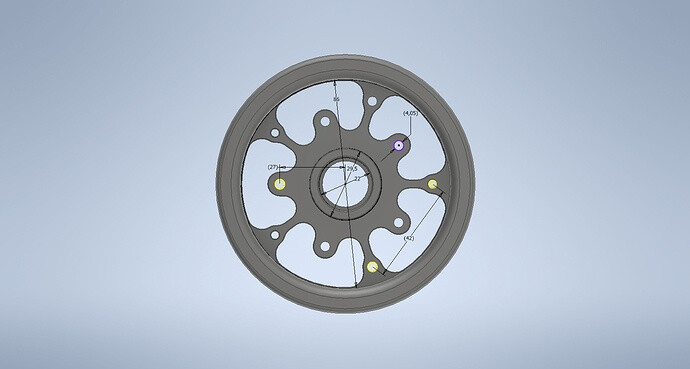 FatBoy Solid Core Hub 4.65"

Made by

@3DServisas

.
CNC 6061-T6 aluminum 5 Spoke Hub for accuracy and rigidity for the harshest road or trail conditions
Fits 9" Tires Only
490G/per hub
Starting Price 190£/per set of 4
Unknown. Up to 80psi?
Bolt Pattern : 42MM bolt to bolt
Bearing Type: 28x8mm bearings.
Axle Compatibility: 9.525 or 12mm axles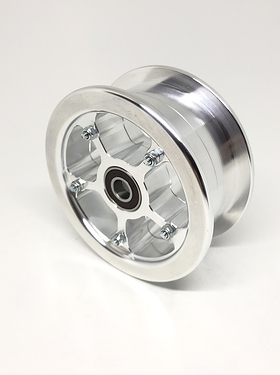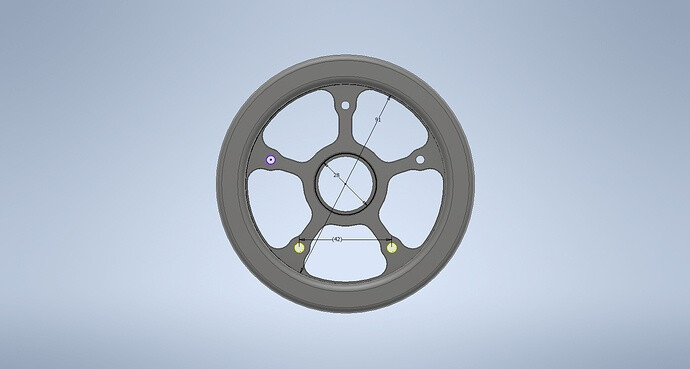 ---
Bergmeister
All-Terrain Pneumatic Wheel

Precision CNC milled three-spoke hubs made by

@haggyboard.timo

.
7 different colours to choose from, 147mm wheel diameter and 45mm width.
Fits 145x45″ Tires Only
163G/per hub
Starting Price 133£/per set of 4
Up to 85psi
Bolt Pattern : 3 holes in 44mm diameter
Bearing Type: 608 type bearings
Axle Compatability: 8mm axles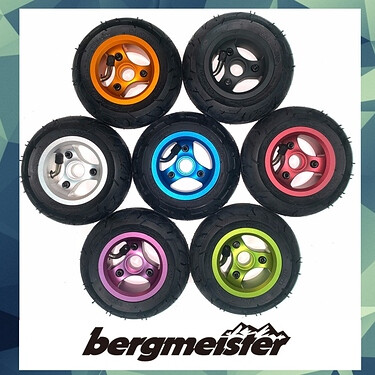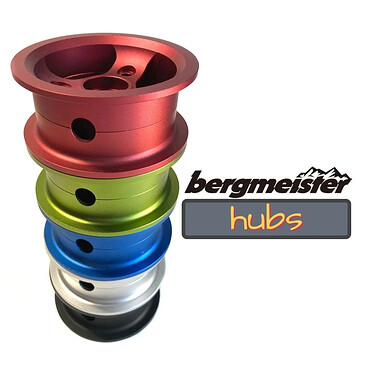 ---
Ali-Express
6X2'

3 spoke metal hub with 6" tires.
Fits 8mm axle.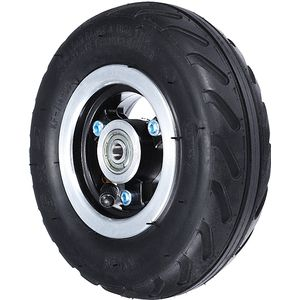 ---
Kaly
BX-One Hubs

CNC 7075-T6 aluminum 5 Spoke Hub Made By @Kaly
Fits 6″x3.75" to 8''x3.75" Tires
438G/per hub
Price $50/per hub
Up to 80psi
Bearing type: 30mmODx10mmID (axle) Angular Contact Bearings
Fits 10mm axle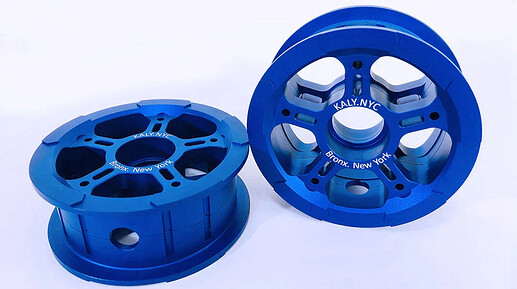 ---
Evolve
Evolve GT Hubs

Plastic (Nylon?) 5 spoke hub
Fits most 7" to 8" tires.
218G/per hub
Starting price 70£/per set of 4
Up to 50psi
Bearing Type: 608 type bearings
Bolt Pattern : 5 drive bolts at 2mm radius, M4x3.0 bolt. 5 Wheel bolts at 45mm bolt to bolt.
See also tech diagram here .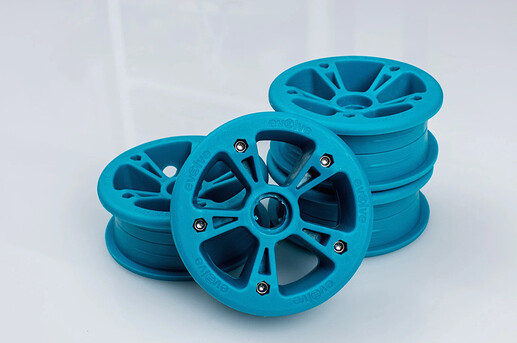 ---
TEMPLATE
IMAGE GOES HERE
---
There are a few hubs not mentioned here like mbs twistar etc…
This is because there are so rarely used in E-sk8 because of their odd bolt pattern. Drives can be made for these hubs but this is very inconvenient.
I focused on the hubs here. not the tires. Some hubs like Bergmeisters have their own tires that go with them. Haggy hubs can support 75psi but their tires only 50psi so please be aware your tire may be the limiting factor of max psi.