You're a bad man.
Regarding poop icons, you can submit a #PFR here
https://forum.freesk8.org/t/user-requested-features-pfr-product-feature-requests/159/14
I'm still waiting for the next plate of mini corn dogs to be served.
21 Supporter
News 89 Supporters
I see a trend…
Any of em perks give a remote?
Yessir. Detailed in the parks package of "Corporate Overlord"
@Andrew
Can I make 1 corporate payment and go back to treefiddy? Or is that cheating?
It's not cheating, because people should donate however much they want. And the world is a crazy place right now, so donation levels & numbers are always going to ebb & flow. I would hate for anyone to feel obligated to donate to this project.
For transparency: it's also worth mentioning that the FreeSK8 project & dev hours are already being primarily funded directly through DRI. Patreon was suggested a few times as a way for community members to pitch into OS development efforts specifically, but this is a boost on top of existing funding & efforts.
I can't recommend donating on the expectation that it will be cheaper than just outright purchasing what you want. If you're looking to get a remote I would suggest just purchasing a beta unit when they're available and contribute whatever you want otherwise.
What the higher tier benefit package (FreeSK8 Founder & Corporate Overlord) gets you is early access to free beta hardware, sent out as care packages as the hardware becomes available. There isn't a hard defined schedule on it because we don't have one to give as things are in final development stages. With that said, the expectation is that the entire FreeSK8 hardware line will be launched by end of year.
Patreon reward system is based around supporter tier levels + lifetime project contribution amounts. Rather than take funding from the FreeSK8 Patreon to provide hardware for the higher tier supporters, DRI is matching the lifetime contribution of the higher tier supporters in the form of hardware.
So if you've contributed $50-100 at one of the top 2 supporter tiers, you'll get a beta Robogotchi from the line samples off the production run. If you've contributed $200ish you'll get a remote. I'm going to be flexible with this, as some folks might already have a remote purchased and want a BMS, etc. The idea is that DRI will match FreeSK8 donations in the form of beta hardware so that the funding can stay funneled directly into further development efforts.
That make sense?
It does. What's a robogotchi?
…damnit. Something that I've been procrastinating on making a thread about.
Think esk8 blackbox/flight recorder. Always-on logging. Fitbit style async logging to our FreeSK8 mobile app (that's getting a thread too).
I gotta get today's orders shipped out and I'll get on making those threads.
Okay…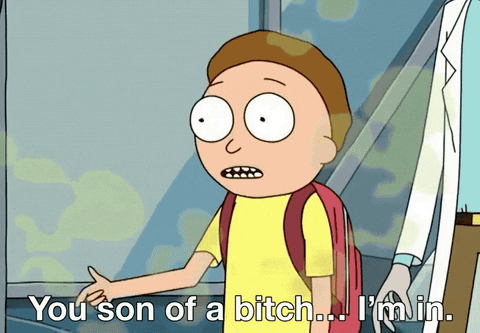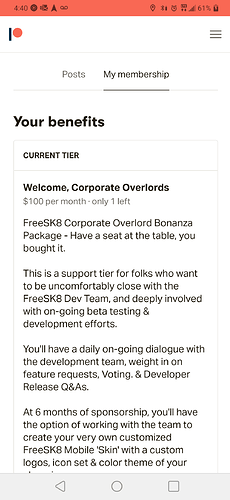 Holy shit
nice one
@Flasher this means I'm now forced to be nice to you. I hope you're a kind mistress.
Really though- Thanks man! Super generous show of support. I'll circle around tonight and throw you the invites to the various super secret society Telegram groups + add you to the FreeSK8 Mobile App Beta Access list.
@glyphiks My reasoning is simple. Now, if I complain, I technically have a valid reason to
bold move. well done. it doesn't do anything about @kook though.
@k00k and I have a love/hate relationship. I love (no homo) him and he hates me
Must be the (no homo) flashing at the watercooler.
We just hit 25 Patrons today!
Getting some sticker bombs + other swag put together for our Patron supporters that will be going out over the next week or so.
Super excited for the stuff we have coming out over the next few weeks & months, and it definitely feels like we're continuing to gain momentum with our progress.
Thanks again for everyone's support- it's meant a lot to us to see so much community backing to bring this project to reality.
I got my set! I love it all!
I put a bunch of it at my desk, mainly so i can stare at @SeanHacker all day.