I want to go skate today…
Mr. Leg is ready to party?
Nope!
Had a follow up with my orthopedic doctor yesterday and he said I've healed faster than he expected but I still should hold off on skating…
.but I wanna!
I got one of those spintend 75v dual controllers to play around with.
Do I pick up a set of tainted maytech 90v motors supposedly rated to 20S?
Or do I start cranking up the lightening on the myriad of motors I have around here and see what catches fire/blows up and what doesn't?
Please talk me out of gett…
Nvm, too late…
Get 80xx motors, they are rated for 15-16s

Very interested in your feedback to those escs.
I have 2 sets of etoxx hubs and neither of them are on working boards…
Yolo
Oh I should add I dont like 8's on them for jumping. Stretched tyres feel weird to me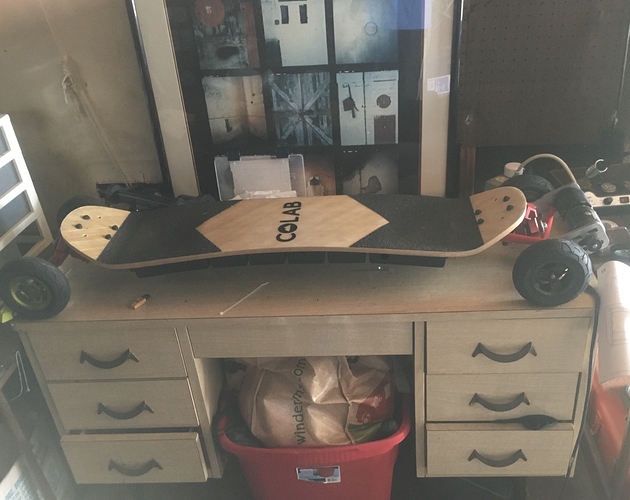 Im thinking of doing surfrods And okp angled risers with the colab, at least while i work and wait on my matrix 2 trucks… i really wanna try that colab…
I'm doing SR tkp on the flux but am somewhat concerned about wheelbite. Don't have the hangers in hand yet to verify but I imagine it's close with 6 shooters. Probs need some risers.
Wish there were longer hangers than 177mm. I emailed SR about restocking colors and let them know me and probably others would want longer hex hangers. Will see if they respond.
For $250 with an eboosted enclosure included!!!
Did you ever decide to try those 9" tires? Cause il tell you…i hate 9" tires … sooooo much!
Talk to me Art, I had 10" on the Baja with no issue apart from then being too narrow
Is that a collector's item? Pretty cool either way.
I'm kinda falling for JayKay etrucks, want to get the 4WD setup and extra wheel sleeves. Talk me out of this.
Sorry bro can't talk you out of it. How else would I try before I buy?
They look awesome for what they are, I still struggle to believe that they are actually real.