What's this? Why it's the FreeSK8 Mobile App thread! Stay tuned for development updates & release information on the state of our mobile app development projects!
FreeSK8 Mobile is a rider-focused multi-function mobile application that provides an ever growing number of features, and also serves as our primary datalogging interface for our FreeSK8 Robogotchi (more on this soon).
The app has been designed from the ground-up by our very own @skate420, in Flutter so that the app can be made available cross-platform. Renee has been a one-woman-army behind our software engineering efforts, and if you'd like to support her development efforts or buy her a cup of "coffee" feel free to throw a donation her way via our FreeSK8 Patreon.
And of course, we will be open sourcing our entire codebase when it's ready for release.
Logging Please note that our logging features are based around our soon to be released Robogotchi modules which have integrated flash to facilitate always-on logging features. This means you won't need to maintain a bluetooth tether to your phone to log; just turn your board on and the Robogotchi will start logging when your ride starts, and afterwards you can sync up to the FreeSK8 Mobile App to transfer your logs over from your board!
NRF/BLE modules can still connect to the app to view real-time data & make configuration changes.
Currently we are holding a limited Early Access Closed Beta Test in the Google Play Store for Android devices, and are expected to have our iOS version of the app available in the next 2 weeks.
Screenshots shown below are from previous alpha builds and should not be considered final in layout or form.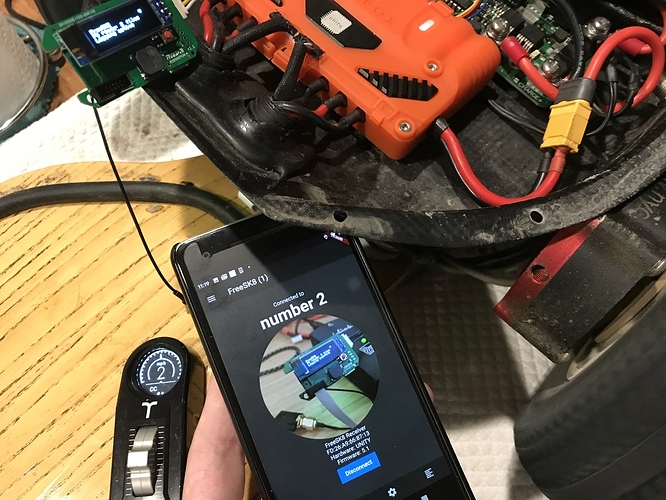 FreeSK8 Mobile App Beta Signup is here, however please understand that we're currently limiting the number of early access participants, so sign-up does not guarantee an invite. Public open beta testing will likely begin around the same time that we launch Robogotchi beta (later this month).
https://play.google.com/store/apps/details?id=com.derelictrobot.freesk8_mobile
FreeSK8 Mobile App Bug Report here.
Release Notes:
v0.9.0
* New logging file format
* Reduced sync time
* Estimate sync time remaining
* Swipe right in ride logging list view to share CSV
* Support for smart BMS on CAN ID 10 or 11
* Updated map icons
* Map centers on chart selection
* Display top speed and highest ESC temp on map
* Increase map size for larger devices
* Reduced points rendered on chart and map
* New secret "feature"
* Other fixes and improvements

v0.8.0
Shareable fault reports
Display faults observed since power up
Chart in ride log viewer highlights faults
Data popup in ride log displays fault code
Faults are displayed on map when viewing ride log
Map fault indicator will report fault code
Faults observed report generated for each log
Fix duplicate timers on iOS
v0.7.2
Fix incorrect date bug in calendar view
Fix hidden chart series selectors in Ride Log Viewer
Send NACK if no message is received during sync
Alert if Robogotchi is running unexpected firmware
Stop Robogotchi status timer before initiating sync
v0.7.1
Fix database schema when creating for the first time
Fix missing DFU mode message
Fix hidden connect button with large system font
Fix flickering avatar in config tab on iOS
Allow connection attempts to be aborted
Showing connection attempt for all devices
v0.7.0
Calendar view in logging tab (tap robot for old list view)
Robogotchi status bar displayed on connection tab
Fix discovered BLE devices grid to 2 items wide
Fix missing selected CAN devices from Robogotchi config editor
Sequentially communicate required data upon connection
Testing SafeArea in RideLogViewer to reveal chart series selection
Minor fixes and improvements
v0.6.4
Will not attempt automatic reconnect
Notify user when disconnected
Display dialog when a connection attempt is in progress
Larger area to dismiss keyboard in ESC Configurator
Confirm before closing the ESC Configurator
Minor fixes and improvements
v0.6.3
Show file sync on user input instead of device response
Send out syncstop message when user aborts file sync
Storing relative path to log files and board avatars
Increase height of RideLogChartOverlay
Display app version in title (temporary)
v0.6.1
Use the imperial units user preference in ESC Profiles
Hide select series data on chart to reduce clutter
Switch Log Auto Start Duty Cycle to eRPM in Robogotchi Configuration
Minor fixes and improvements
v0.6.0
Configurable Robogotchi alert thresholds
Store board avatar(s) in Shared Preferences
Board avatars can be selected from Gallery
Smooth voltage input on real time data
Disabled charting PanAndZoomBehvior for performance
Minor fixes and improvements
v0.5.2
Add SafeArea where appropriate for various manufacturer occlusions
Capture state of ESC communication
Restrict ESC Configurator access to connected & communicating devices
Display message if Motor Configuration was not received
v0.5.0
Added ESC Configurator for modification of settings
Default all users to dark theme
Reduced required user settings by requesting from ESC
Minor UI changes and bug fixes
v0.4.1
Fix applying ESC profile minimum and maximum watts
Enforce negative value for Max Power Regen in ESC profile
Added Robogotchi Configuration Editor
Removed background location permission requirement
Ride Log Viewer supports dual and quad ESC configurations
Added confirmation before entering Robogotchi DFU mode
v0.3.0
Editable ESC Profiles to control speed and power output
Display DieBieMS discharge as red progress bar in cell grid
Show DieBieMS State of Charge with current voltage
Fix DieBieMS battery temperature decimal place
Dart serializer for mc_configuration data structure
Minor UI adjustments and fixes
v0.2.2
Editing board details sets the cursor to the end of the text field
Improved DieBieMS view
Added DieBieMS cell comparison
Evaluating asymmetric sigmoidal approximation for battery % remaining
Positioned RideLogViewChartOverlay to fit better on those smol phones
v0.2.0
New location package that does not execute in background
DieBieMS Data Visualization
Non linear battery curve to estimate % remaining
v0.1.1
Sync without Erase will not show last file until you switch back to logging tab
Sync with Erase while Logging is active will not erase files (could be robogotchi fw, see renee)
Chart in ride log viewer not optimized for large number of points. Try mp_charts
Duty Cycle gauge on Real Time tab may flicker the red highlight on and off
Editing board settings may put the input cursor at the start of the entry